Author: admin | Monday, February 20, 2012, 20:26 hours | Read 92497 times
In fact,
course page creation
is saying too much, but this article will present the basic, useful information for those wishing to get started with web development.
People who design web pages relatively short, or just do not feel this good, it will find the information and sometimes do not go in the wrong direction.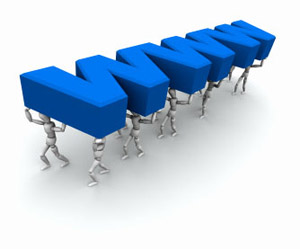 At the beginning we know very foundations, that is, what language to what is (or rather what should .. I know that a Pole can be and how he wishes was surfing on the ironing board).
HTML
HTML is used to create the skeleton - the logical layer (header, menu, footer, content, paragraph, etc.) - should not be used to shape the appearance of the HTML page, the background color, font, size anything (blocks of text, fonts, header etc). It is a knock once and for all: HTML is responsible for distributing the content into logical sections.
CSS
Cascading Style Sheets, or CSS are used to shape the look of our website. So we created using skeleton HTML page (header, menu, block the main text, footer, etc) and now using CSS, we can have an impact on the appearance of these elements, the size, margins, alignment (relations between) the color, etc. CSS can written (in fact we should do so) to an external file. Pointing to using CSS to specific elements of HTML tags is done by class (class = "name") and identifiers (id = "name").
HTML and CSS
is used to make static pages. If you want to have a dynamic page (CMS, forum, portal, etc.) comes to us with the help of PHP.
PHP
PHP is a programming language similar to C / C + + server-side (or on our hosting). By. me is quite simple, simpler than C / C + + (because its syntax is much simpler, such as the lack of variable declarations, and has a very substantial base built-in functions), some argue that by this simplification easier to program and easier to make mistakes - perhaps this is true, I find it hard to assess (rather encodes only in PHP).
Why do we need it PHP? If you want to create a dynamic page, then just write a script in PHP that such "sticky" We header, menu, content and footer. Depending on your choice from the menu script doklei us the right content to the header and footer menu. It's a simple example.
It is worth noting (for those green especially) that the PHP on the server generates HTML and sends it to the browser. So you can not preview a PHP page, we'll see only the effect of this script, which said generated HTML. In addition, application of this begs the obvious - PHP is an HTML generator, therefore, does not in itself be used to create pages and to make use of it you need to know HTML.
MySQL
MySQL is a type of SQL database - one of the most popular (eg FOR IN zemnie used ;)). The database comes to our aid if we are a fairly comprehensive site that is growing all the time - comes its content. So it is such a forum, website, blog, etc. MySQL is based on SQL queries (like MS Access). All MySQL data can be represented precisely in these queries. But the base itself will not help us. To use MySQL you must also use PHP. Using PHP to connect to our database, we send the request (eg, "Get a list of userów" - "SELECT * FROM tabela_userzy ') charge response in the form of a PHP array and do this on what we want, for example, list the userów) .
Nowadays, web development is very fast and HTML itself is not enough. Increasingly, it is necessary to connect HTML + CSS + PHP + MySQL. But there is
JavaScript
JavaScript, in a nutshell is the JS language for scripting, client-side - that is, in our browser. The script is sent to the browser on your computer and perform an action. In some cases it is quite a big convenience. A simple example: I am writing this guide and now I want to add
bold
, Select the text in the editor, click on the bold, JS performs an action - adds the appropriate bbcode to text in the editor.
This is just a small example. But the JS in conjunction with other languages ​​can be a powerful tool for adding high interactivity on the site and reduces the load on the server (eg, AJAX).
To sum up everything
We want to start to create a website? Let's start in the correct order, such as I stated previously, the first beginning to learn the HTML, then CSS, PHP, MySQL. JavaScript is still, I left at the end, because it is not necessary to create pages, for example I am using ready-made solutions. As we would like to start learning JS that's for sure, this should take place after mastering HTML "and CSS.
Comments:
On Monday, 26 March 2012, at 16:46 Slawek wrote / a:

Tag cloud
Archive
Statystyki
czas generowania - całkowity: 0.1846 sek.
czas generowania - MySQL: 0.1391 sek.
czas generowania - PHP: 0.0455 sek.
czas generowania - translator: 0.1431 sek.
Ilość przetłumaczonej treści: 100 %
ilość zapytań MySQL: 64
wykorzystana pamięć RAM: 1 390,28 kb